Since its formation in 2006, André Brorsson and his indie-pop project Stars in Coma has been able to harness his multicolored tendencies into a pop-infused psychedelic sound that dabbles in rock, disco and funk, peppered with his own unique idiosyncrasies. The Malmö, Sweden-based project has put out eight full-length albums, several EPs, and toured Europe relentlessly, where they've built a solid reputation performing alongside heavyweight bands like The Pains of Being Pure At Heart, Hidden Cameras, Spearmint, Cats on Fire, and Azure Blue.
The Confessional Sun, an album dealing with the passing of Brorsson's father, was released in 2014 to rave reviews in both native Sweden and abroad.
This year, Stars in Coma put out two brand new full-length albums, following a three-year writing process. In August, the pop-inspired Escapist Partisans was released, while the baroque and folk-styled Defunct Summer saw the light of day in September.
US indie music site Obscure Sound has called the band's sound a mixture between "ABBA's orchestra-laden and punchy pop to the idiosyncrasies of contemporary Swedish songwriters, like Jens Lekman and Eric Berglund," while INDIE30 called Stars in Coma "guitar pop at its finest."
SWEDISH
Med sina sju fullängdsalbum har Malmö-baserade Stars in Coma sedan 2005 mutat in sitt eget hörn på den alternativa popscenen. Bandet, som turnerat flitigt runtom i Europa, har det senaste året hunnit släppa sin mest personliga skiva The Confessional Sun samt gjort sin USA-debut på anrika New York Popfest. Stars in Coma, som leds av André Brorsson, blandar ABBA-liknande popmelodier med en bitterljuv ljudbild som för tankarna till både 70-talsdisco och David Bowie.
New album

Escapist Partisans and Defunct Summer

out now!
New albums

Escapist Partisans

and

Defunct Summer

are out! Buy now
As André Brorsson releases two new Stars in Coma albums in the fall of 2017, he does so in an era when music is seldom experienced more than one or two tracks at a time. Playlists have given way to track-lists, and rarely is there time to take part of an artist's holistic vision.
With Escapist Partisans and Defunct Summer, however, Stars in Coma has managed to create an all-encompassing framework that is bigger than the sum of its parts. We are invited to join in on a tumultuous journey from the realms of introspection and stream of consciousness (Escapist Partisans), to a place of outward outrage at the prevailing societal climate (Defunct Summer).
Musically, as well as lyrically, 80's pop-inspired Escapist Partisans is a strikingly introspective project. People who are already familiar with André's music know that his sense for melody never dwindles – few songwriters are as talented when it comes to composing dark hooks in the key of minor (take a listen to "Subtraction Exercises" for example) – but on this album, the atmospheric soundscapes, the impulsive chord sequences, and the sharp twists and turns are explored at an even deeper level than ever before.
It's like stepping aboard a meandering tour of the protagonist's subliminal house of mirrors, in which a new, often times distorted, reflection of the mind appears behind every corner. Daniel Örtegren's strong saxophone efforts, such as in "Ten Years", create associations to the musical theme of Taxi Driver, during which the audience follows Travis Bickle's slow mental demise against the backdrop of a New York City in atrophy.
"I do not know what I'm writing about, but it seems to be about my selfish struggle," Andre laments in "The Victorian Sinkhole." It's about irrepressible inner voices, a narcissistic game that more often than not escalates into claustrophobia inside the subject's head. As we approach the last track on the album, "Chalet Saudade", there's a sudden turn, however: "I woke up to a harsh reality, not to all those stories you told me a long time ago." An awakening from the mental chaos takes place, as our hero's gaze suddenly turns away from the psychotic – towards a society that can no longer be ignored.
The release is available on limited edition cassette and digital formats.
Enter the chamber pop project Defunct Summer. Here, there is a harsh reality to come to terms with, as André observes in "This Damn Reminder," a commentary on the border controls introduced over the Öresund Bridge between Sweden and Denmark. Unlike the dreamy haze of Escapist Partisans, resignation is no more. Confusion and anxiety are no longer the prevalent moods, but rather determination and the desire to act. A recharged fighting spirit and a newfound sense of hope blossoms, often accompanied (and contrasted) by the romantic and calming soundscape of cellos, violins and flutes. And though the rosiness might not be anchored in reality, "the illusion of hope is good enough for now," André sings on the final track, "Libertate Unanimus."
With these twin albums, Stars in Coma has achieved more than just a playlist of indie pop songs. It's a musical journey from dark to light, from minor to major, where the twists are abrupt, the nuances plenty – and the end result magnificent!
-Moonport Recordings - www.moonportrecordings.com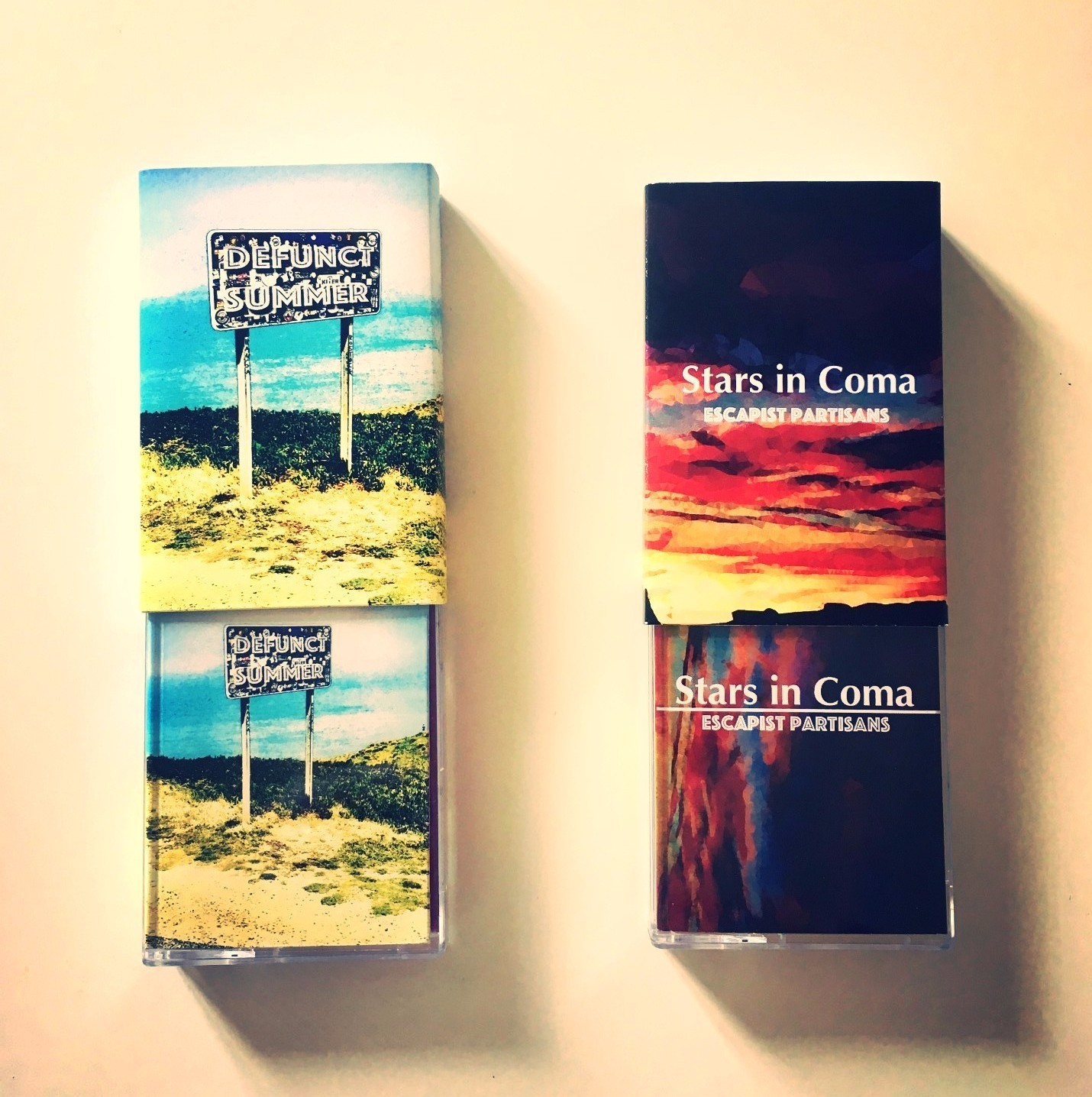 For show booking/general enquiries: